1.8.9 released
October 21th, 2011
This is a hotfix release, fixing some of the reported crashes.

I know this is a very soon release after 1.8.8 and i apologize for any inconveniences, but some of these crashes could be very annoying for the users.

See the changelog for more info on whats fixed.
1.8.8 released
October 16th, 2011
This is a pretty big upgrade from the previous version, i highly recommend upgrading.

The entire core and several other parts have been rewritten completely.

Some of the new features are, experimental scripting support, log browser/viewer and a channel editor.

See the release notes for more information.

Thanks to all the beta testers and bug reporters, keep it up :)

Please report any bugs you might find at dev.adiirc.com
AdiIRC on Ubuntu
April 23th, 2011
I recently installed Ubuntu on my desktop for a change and off course i wanted to run AdiIRC on it, but my mono "port" with windows forms was to slow and buggy so i decided to see what i could do with the AdiIRC core and a GTK frontend with pure mono.

Here is the result so far.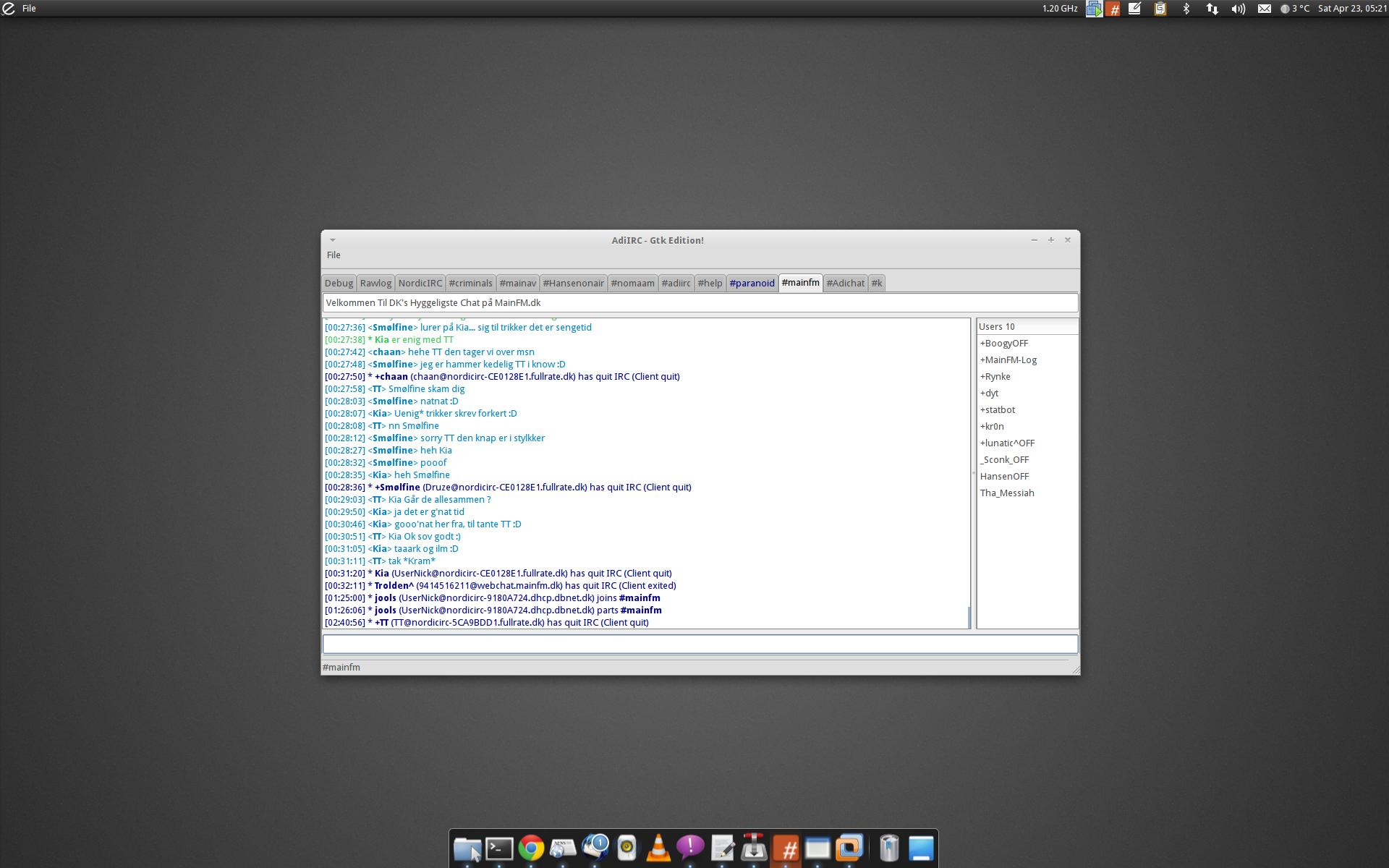 Works on both OS X and Linux, maybe i will release it someday :D
Encoding bug
April 13th, 2011
A encoding bug was fixed in the beta build 130411-1.

If you have problems with your autocommands/perform, open the serverlist, look for something like /commandWEIRD CHARACTER HERE/command, just delete the weird character and make sure all commands are on a seperate line, then save the serverlist and rerun adiirc.

That should do the trick, sorry about that.
1.8.7 recurring bug
April 2th, 2011
There is a bug in the 1.8.7 serverlist when you add a new server that looks something like this:

"Object reference not set to an instance of an object."

I believe it is harmless, just ignore it when it happens.

It's fixed in the beta's.
« Back
1
2
3
4
5
6
7
8
9
10
11
[12]
13
14
15
16
17
18
19
20
21
22
23
24
25
Next »