1.8.8 released
October 16th, 2011
This is a pretty big upgrade from the previous version, i highly recommend upgrading.

The entire core and several other parts have been rewritten completely.

Some of the new features are, experimental scripting support, log browser/viewer and a channel editor.

See the release notes for more information.

Thanks to all the beta testers and bug reporters, keep it up :)

Please report any bugs you might find at dev.adiirc.com
AdiIRC on Ubuntu
April 23th, 2011
I recently installed Ubuntu on my desktop for a change and off course i wanted to run AdiIRC on it, but my mono "port" with windows forms was to slow and buggy so i decided to see what i could do with the AdiIRC core and a GTK frontend with pure mono.

Here is the result so far.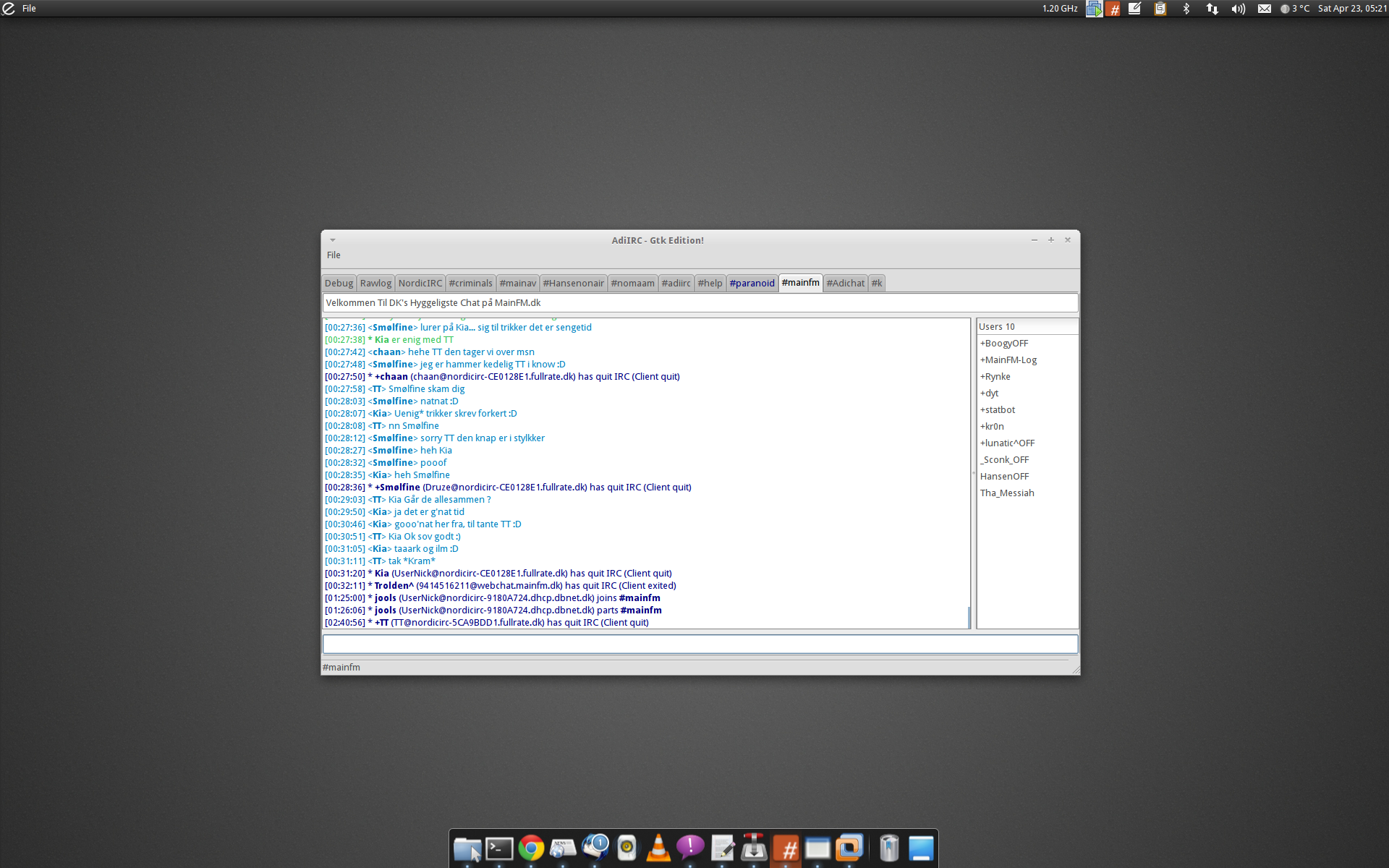 Works on both OS X and Linux, maybe i will release it someday :D
Encoding bug
April 13th, 2011
A encoding bug was fixed in the beta build 130411-1.

If you have problems with your autocommands/perform, open the serverlist, look for something like /commandWEIRD CHARACTER HERE/command, just delete the weird character and make sure all commands are on a seperate line, then save the serverlist and rerun adiirc.

That should do the trick, sorry about that.
1.8.7 recurring bug
April 2th, 2011
There is a bug in the 1.8.7 serverlist when you add a new server that looks something like this:

"Object reference not set to an instance of an object."

I believe it is harmless, just ignore it when it happens.

It's fixed in the beta's.
Scripting
April 1th, 2011
I'm playing around a little with scripting in the latest beta's, you can follow my progress at http://dev.adiirc.com/projects/adiirc/wiki/Scripting

Any feedback is appreciated :D
« Back
1
2
3
4
5
6
7
8
9
10
11
[12]
13
14
15
16
17
18
19
20
21
22
23
24
25
Next »