AdiIRC
AdiIRC is a free Internet Relay Chat (IRC) client.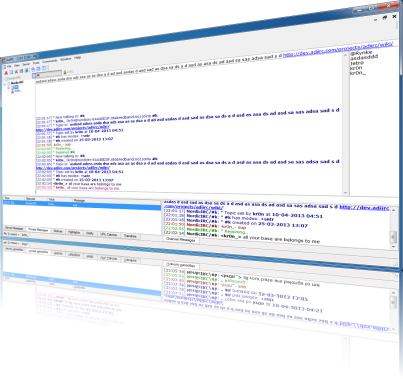 Customize

NowPlaying


Winamp
Itunes
MusikCube
QCDPlayer
MediaMonkey
Foobar2000
XMPlayer
Spotify
VLC Media Player
Media Player Classic
PotPlayer
SMPlayer
MusicBee
AIMP
Bomi
Mpv
Deezer

Features


Threaded Multiservers
System Informations
DCC Chat/File Transfers
Fullscreen
Opacity and Transparency
Background Images
Full Message Logging
Easy Message Search
SSL/TLS/STARTTLS/IPV6 Connections
IRC logs browser/viewer
MTS Themes
Theme packs Icons fonts colors sounds emoticons scripts
Adjustable nick column
Proxy support
Emoticons
Nicklist/Treebar/Windows icons
Advanced server list
Inline images/Animated gifs

Portable
AdiIRC stores all its settings in text files, this way you can grab the adiirc folder and put in on a usb device or external harddrive. Take all your settings and servers with you everywhere!